The Teachers Service Commission (TSC) has issued a clarification after an advert announcing 6,000 vacancies and impersonating its brand went viral.
The advert which was designed with the commission known shade of colour blue and its logo, listed the schools that the new tutors would be posted in once the exercise was completed.
In a statement shared on Wednesday, June 2, TSC denounced the letter warning the public to be wary of such malicious ads that seem to have flooded various industries.
"Beware of fake documents circulating with purported teaching vacancies. TSC has not announced any teaching jobs," read the warning in part.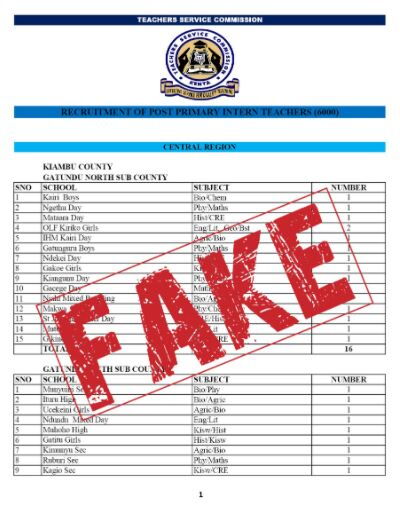 TWITTER
All the fake vacancies had been classified as internship positions and were purportedly aimed at filling post-primary positions.
This comes months after the government body denounced another 12,000 internship vacancies whose ad was designed to mimic a newspaper version.
The notice went viral in October 2020 promising 4,000 slots for primary schools and 8,000 for secondary schools.
Being a government body, TSC is is often required to advertise its vacancies either inside the government-owned MyGov newspaper or have the advert carried in a newspaper with a nationwide reach.
The last time the commission ran an authentic advertisement was in March 2013 when it announced 1,550 job vacancies for teachers.
The commission, at the time, declared the vacancies with the aim of replacing teachers who exited service through natural attrition.
There were 1,119 posts for primary schools and 431 posts for secondary schools for which interested candidates countrywide were allowed to apply for.
To qualify for their jobs, the candidates are often required to be a Kenyan citizen, be a holder of a P1 certificate in the case of primary schools and a minimum of a diploma in education in the case of secondary schools as well as be a registered teacher with the Teachers Service Commission