Kenya Universities and Colleges Central Placement Service (KUCCPS) CEO Agnes Wahome has announced that KCSE candidates would get a chance to review their selected courses in the second revision phase slated for Tuesday, June 22.
Speaking to Nation, she expounded more on the recent concerns regarding most top KCSE candidates missing out on preferred courses.
The KUCCPS boss entailed that the criteria is based on a ranking system that grades all candidates from top to bottom.
Depending on the university course selected and institution selected, she added, the system allocates the candidates to the specified courses.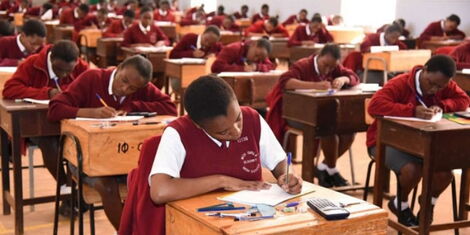 KCSE students sitting the national exam
FILE
"For instance, if all universities combined have only 100 spaces for engineering and more than 100 students who are qualified for the course they apply, the system orders them from the highest to the lowest and allocates them the course in that order until the capacity is filled," she explained.
She added that when the candidates miss out on the program, they have an option of pursuing it as a self-sponsored student.
Wahome advised the students to focus on the course primarily as opposed to the choice of universities, adding that they should apply for the course in universities where they would face less competition.
"One of the biggest mistakes that students make while selecting programmes is considering the choice of university ahead of the course.
"From our experience, the challenge is more often about selecting the highly demanded courses in highly coveted universities. If a student really desires a course, we encourage them to apply for it in universities where they will likely face less competition," she stated.
The KUCCPS boss encouraged students to consider revising their programmes during the second revision phase.
Initially, the first revision began on Wednesday, April 7, and closed on Friday, April 16.
During the process, Wahome urged candidates to review their preferred courses and new applicants to apply for university placement. She also encouraged students to opt for tertiary institutions where they would be equipped with the necessary skills.
"We have opportunities but very few are ready to take them. It is a countrywide problem where you will rarely find a young person committed to taking a vocational course," Wahome stated.