The final university placement for Kenya Certificate of Secondary Education (KCSE) candidates will begin on Monday, July 26.
This comes after the Kenya Universities and Colleges Central Placement Service (KUCCPS) closed the revision window given to candidates on Friday, July 23 2021.
Reports also indicated that results will be announced by mid-August. KUCCPS had announced the exercise was to begin on Tuesday, June 22 and run until Monday, July 5 but candidates got a reprieve when the deadline was extended.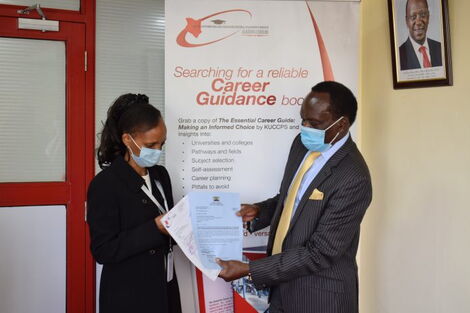 On Wednesday, April 7, KUCCPS CEO Agnes Wahome invited first-time applicants to apply for placement to a degree, diploma, craft certificate and artisan courses under government sponsorship into universities and other training institutions.
The Government had raised concerns over the low number of applicants within tertiary institutions as most students opt for university courses.
"We have opportunities but very few are ready to take them. It is a countrywide problem where you will rarely find a young person committed to taking a vocational course," Wahome stated.
Related Article; How to check for KUCCPS placement 2020/2021 Online, and Via SMS
She urged students to take up opportunities within the tertiary colleges to acquire the requisite skills needed in the job market.
Medicine, dental science, engineering (civil and electronic), architecture, pharmacy, and actuarial science were the most popular courses.
Bachelor of Education (music), Bachelor of Arts (Music), Anthropology, Ethnobotany, and Physical Education were bottom of students' wish list.
According to KUCCPS, 67,790 students secured placement to pursue degree courses across the 31 public universities and another 11,523 will join middle-level colleges for diploma courses.
Students who scored good grades but picked competitive courses in their top three choices ended up missing out on all.
The report indicated that very few students selected artisan and technical courses and could be missing out on lucrative high-paying careers such as music and film.