Education Cabinet Secretary George Magoha is exploring ways to have primary and secondary schools resume studies.
According to a statement released on Tuesday, May 12 and signed by Magoha, the CS constituted a 10-member team to explore modalities of reopening schools.
The Kenya Institute for Curriculum Development (KICD) Chairperson Dr. Sarah Ruto was selected to chair the committee.
"Although schools were expected to resume learning when the Second Term was scheduled to start on May 4th, 2020, the Government extended the reopening date for one month to give more room for the scale-up of the national efforts to fight the spread of COVID-19.
"In the meantime, the Ministry has come up with measures to mitigate the effects of COVID-19 in the education sector, including mounting of online learning and the drafting of a master-plan to guide the response to COVID-19 in the education sector," read the statement in part.
The team was unveiled at an event held at KICD headquarters in Nairobi on Tuesday, May 12.
"Aware that the effects of the pandemic have hurt the basic education sector the most – threatening to wipe out the gains made to stabilize the academic calendar – the Ministry has appointed a ten-member committee to take charge of the process of exploring the best possible strategies of restoring normality in the sub-sector," added the statement.
The committee was ordered to commence operations with immediate effect.
This comes days after Magoha told Parliament that it was possible that learners could stay home for up to a year if Covid-19 was not contained.
The members of the committee include Indimuli Kahi (the chairman, Kenya Secondary Schools Heads Association), Nicholas Gathemia (chairman, Kenya Primary Schools Heads Association), Peter Ndoro (CEO, Kenya Private Schools Association), Nicholas Maiyo (chairman, Kenya Parents Association) and Augustine Muthigani from the Kenya Conference of Catholic Bishops.
The others are Jane Mwangi from Kenya Association for Independent International Schools, Nelson Makanda of National Council of Churches of Kenya (NCCK), Sheikh Munawar of Khan Muslim Education Council, Mutiso T. Wambua, the principal of Kenya Institute for Special Education and Peter Sitienei, the chairman of Kenya Special Schools Heads Association.
Other functions that the committee was tasked with was to Advise the Cabinet Secretary on the reopening of Basic Education institutions, Review and reorganise the school calendar as part of the COVID-19 post-recovery strategy as well as to document all COVID-19 related matters, lessons learned and recommendations for future preparedness among others.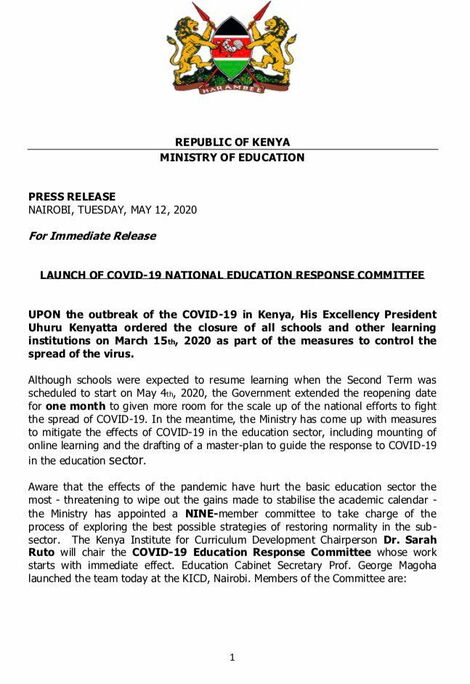 A statement issued by Ministry of Education on Tuesday, May 12, 2020.
TWITTER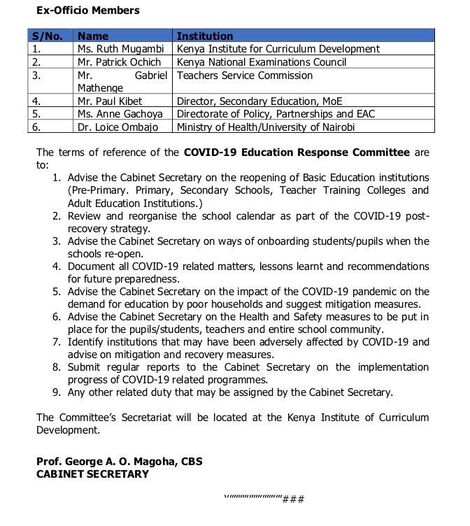 A statement issued by the Ministry of Education on Tuesday, May 12, 2020.