President Uhuru Kenyatta reportedly dared government officials aligned with his deputy, William Ruto, to quit from office or toe the line.
Insiders at the Thursday, February 18 meeting, where the head of state met Cabinet Secretaries (CSs), Principal Secretaries (PSs), CASs and other executive members, said that Kenyatta read the riot act at State House.
DP Ruto was not present at the meeting, with his allies insisting that he was not invited. Kenyata allegedly warned officials who were not keen on working with him to join other factions and allow him to govern the nation peacefully.
"He said he was only keen to work with a strong united team and warned those with their loyalties elsewhere that they were free to leave and he would readily replace them. He said it is either you are with him or not," insiders claimed.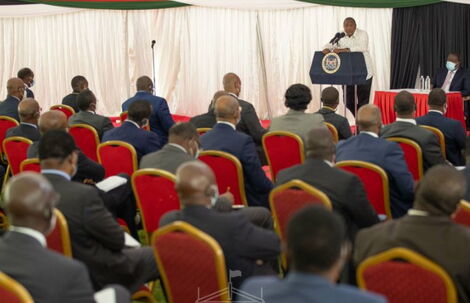 Reports allege that Kenyatta is planning to reshuffle his Cabinet and fire CSs he believes are colluding with Ruto. He is also reportedly keen on cracking the whip on the DP's sympathisers in Parliament and other public offices.
"There is anxiety among my colleagues. No one knows their fate. Even those who were reshuffled do not understand why they were moved; whether it is related to politics or non-performance," a CS told a local daily.
Kenyatta reshuffled CASs and PSs on Wednesday, February 17. He also appointed new CASs to his government. The President directed them to focus on his Big 4 Agenda and Vision 2030 flagship projects.
He also instructed them to ensure public resources are utilised appropriately, stating that they were in power to serve all Kenyans.
Ruto and his allies claim that the DP was not invited to the meeting as the row between the two leaders escalates. Interior CS Fred Matiang'i and Head of Public Service Joseph Kinyua conducted the meeting alongside Kenyatta.
"My boss was not aware of the meeting. As far as I know, the Deputy President was not invited. Let State House explain what happened," Ruto's spokesperson, Emmanuel Tallam told the Standard.
The reshuffle and meeting with government officials came a few days after Kenyatta dared Ruto to quit from the government. The head of state said that his deputy was defiant and campaigned against Jubilee's agenda while also enjoying the success of the same government he criticised.
The DP responded claiming that he was the only politician fit to succeed Kenyatta and that he would do so even without the President's blessings. He warned Kenyatta from associating with leaders who were against them in 2013 when they were facing charges at the International Criminal Court (ICC).